At Gigi, we care about the environment just as much as our teeth! Here are some things that we've worked on to ensure that any waste our products produce can biodegrade or be recycled rather than contribute to more landfill.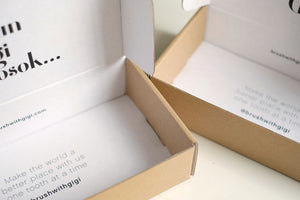 Recycled boxes
Anytime you receive a box of Gigi goodies, you can rest assure that our mailer boxes are made here in Malaysia with a local company, made from recycled materials. You can reuse them, give them to your kids for arts and crafts or you can toss them in the recycling bin when you're done to give them another chance to come back around!
Local Suppliers
Gigi toothpastes are made right here in Malaysia. Not only is this good for our local economy, it means your oral care essentials don't have to travel very far to make their way to you. It's a small way to make a big difference.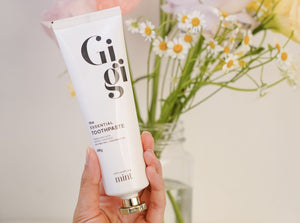 Our Tubes
This is a tough one to crack! While we're working very hard to make the best choices we can, and to create products that are as thoughtful as possible, we've learnt a few things about toothpaste along the way. Toothpaste needs to be well protected from exposure to air, so it doesn't deteriorate when it's trying to do its job. Right now, plastic is the substrate that allow the least amount of air to pass; and therefore keeps your toothpaste safe. But don't worry, we're constantly on the case! We will not rest until we're able to provide you with a better solution.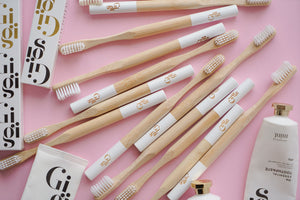 Our Toothbrushes
Gigi's toothbrush handles are made from 100% biodegradable bamboo. The bristles are made from BPA free nylon which are not compostable but can be recycled. Break off the bristle head or remove bristles with pliers and the bare bamboo handle can then be composted and will safely return to the soil!